Every user on ColoradoGives.org must have a user account, even users looking to claim access to their organization's page on ColoradoGives.org.
Once have created a user account and approved as an admin for your organization, you can login and access your user account Profile, where you can access fundraisers, donation history and any Organization pages you've claimed.
Your User Account
When you sign up for ColoradoGives.org, you'll have a user account page where you can head to your organization page, track personal contributions and access receipts for donations, manage personal recurring donations, manage any fundraisers you've created, and add a photo to your user account.
Once you login, place your mouse over the top right user icon:
​
​
You can access your user account from your site menu. When you're logged in, underneath your name you can click on one of the available options (Recurring Donations, Managed Causes, Donations History, or Account Settings) to access your user account.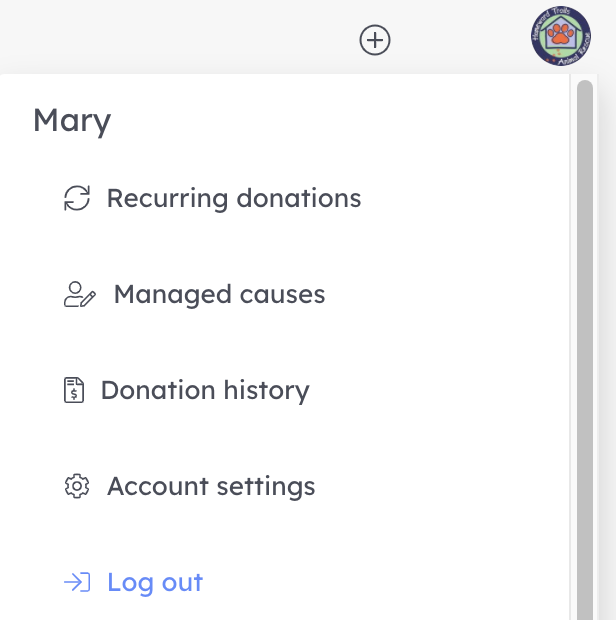 When you're on your user account, you'll see your name and user avatar (which is a randomly-assigned illustration if you haven't uploaded an original one yet).

Underneath, you will see different tabs that you can toggle between.

Updating Your User Account Name
To update the name associated to a user account, select the pencil icon located to the right of your name. Edit the name and click SAVE.
Once the name has been updated, you will see your name updated in the Admin section of your organization page.
As an administrator for your organization, you can be designated as a lead contact in order for the ColoradoGives.org support and communications teams to contact you with important updates. All current organization administrators have the same administrative control and access. The designation feature will be for higher level communications.
To designate yourself as a lead contact:
Head over to your organization's profile page.
Navigate to the 'Settings' > 'Admins' tabs on your organization profile page.
Select the 3 dots to the right of your name. Then select 'Edit.'
Scroll down and check the "Mark as a lead contact" box.
Continue with adding the best phone number and any notes you would like our support and communications teams to know. *Something to note: The telephone number will only be used for urgent security or support issues.
Be sure to click 'Save.'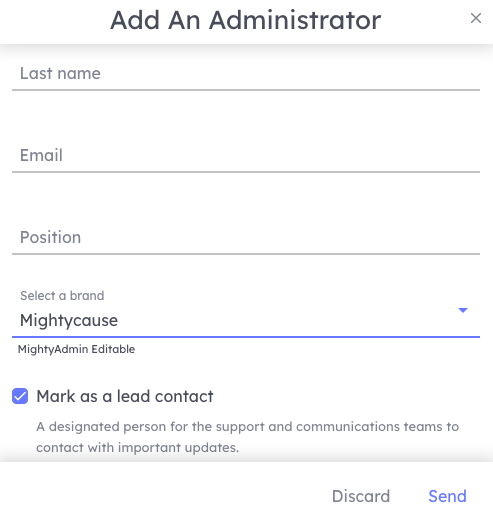 Your Donation History
You'll find your contribution history under the "Donation History" tab.

You can view personal donations, re-send receipts, and download annual giving statements from this section of your ColoradoGives.org user account. All donors have access to a donation history through their user account.
At the top, you will see a breakdown of the total donations you have personally donated with using the email address associated to your user account. Donations that are associated to another email address will not be located here.
Underneath, you will see a list of all of your donations. You can search for a particular donation using the field ranges and search bar, or you can simply scroll down.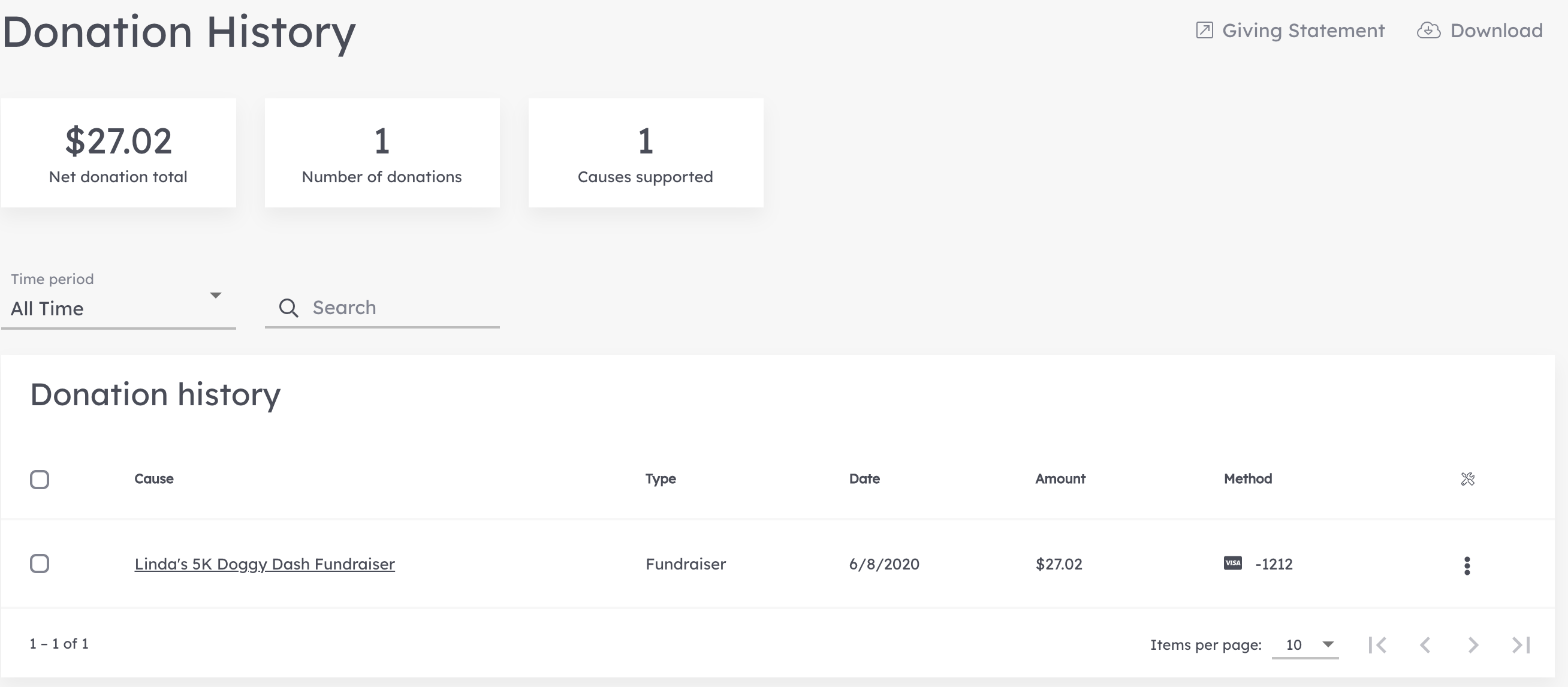 You can also resend receipts, access a year-end Giving Statement, or make any necessary updates to your previous donations.
Managed Causes

Through your user account, if you are set up as an administrator for an organization, you can quickly head to your organization page through the "Managed Nonprofits" section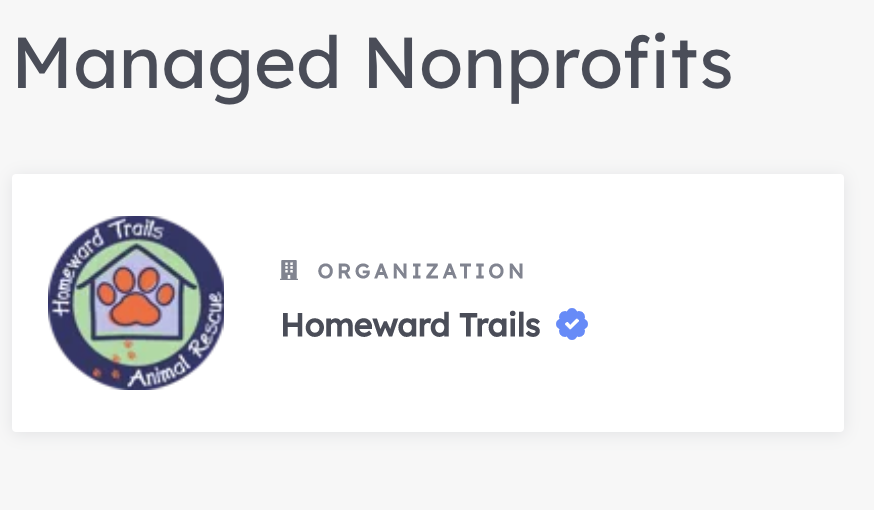 If you do not have a Managed Nonprofits section, the email address you are logged into is not set up as an administrator.
Underneath "Created Campaigns" any fundraisers you've created on ColoradoGives.org will be listed here. To navigate to a fundraising page, click "Manage" next to the particular campaign.

Your Account Settings

You can manage your ColoradoGives.org account from your "Account Settings".
Here's what you can update or edit from your Account Settings:
Email Address
You can update your email address. You can only use an email address on one ColoradoGives.org account, so you won't be able to add an email address that's being used on another ColoradoGives.org account.
Password
This is where you can update your password.
Multi Factor Authentication
To secure your account you can set up multi factor authentication. With Multi Factor Authentication, you can add an additional login step with text, voice, email or an app authenticator. Use the radio buttons to indicate your primary method.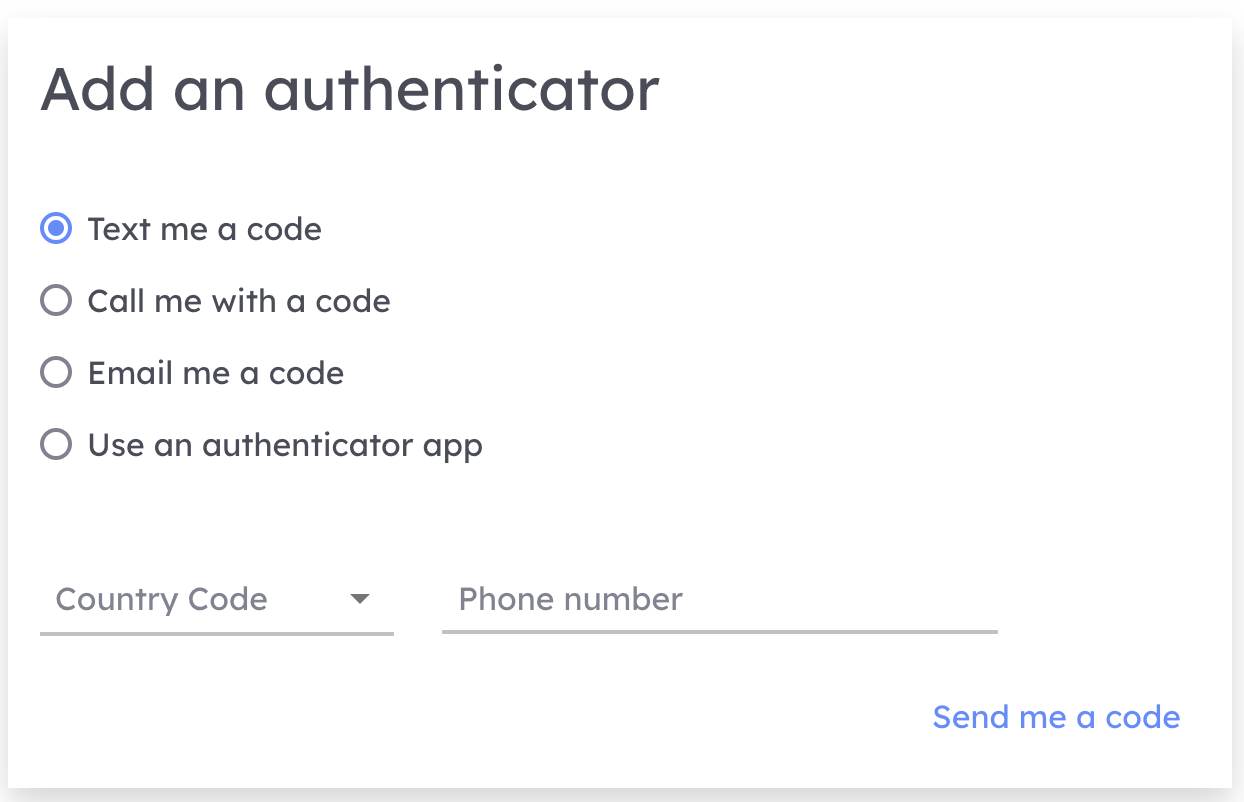 Notification Emails
When you create a ColoradoGives.org account, you are automatically opted into receiving certain emails from us. You can manage the notifications you receive in your account settings.
Stored Cards
To make donating simple and easy, you can save your credit card information to your ColoradoGives.org account, so you won't have to enter it each time you donate. You can view which payment methods you have saved to your account here, and remove any payment methods you would like.
Connected Apps
You can connect social media accounts, such as Facebook, Google, and Instagram accounts to your ColoradoGives.org account. This section of your settings page is where you can see which accounts are connected, and remove accounts you do not want connected to your ColoradoGives.org account.
Deleting you
r ColoradoGives.org Ac

count

You can delete your ColoradoGives.org account at the very bottom of your Account Settings. Scroll to the bottom until you see "Delete Account".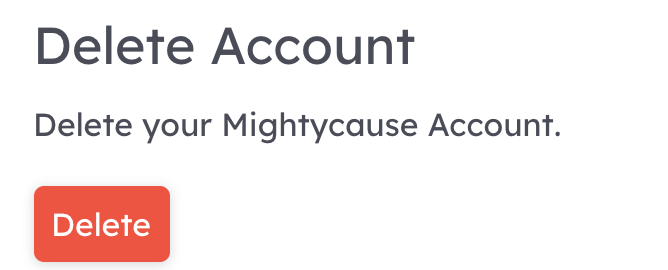 Once you click it, it will ask you to confirm whether you want your account delete.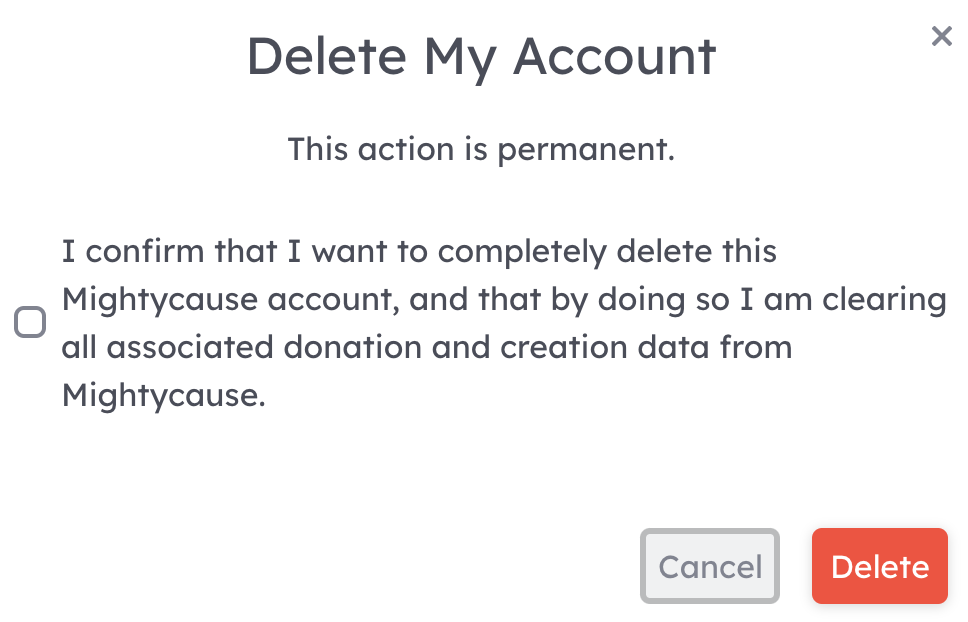 Need Help?
If you need assistance navigating your account or have questions about using any of the tools it contains, contact our support team at here.