Overview
To use ColoradoGives.org Google Analytics Integration, you must have an active ColoradoGives.org Advanced subscription. By utilizing the Google Analytics integrations tool, you will be able to track your organization page traffic and all of your fundraising pages page traffic.
If you have connected your Google Analytics account while subscribed to Advanced, but later end your subscription to Advanced, data from ColoradoGives.org will no longer be updated in your Google Analytics account.
Set Up
To connect your Google Analytics account with ColoradoGives.org, visit your organization's Mightycause page while logged in as an org administrator. From there, select the "Integrations" section on the dashboard and then click on "Google Analytics."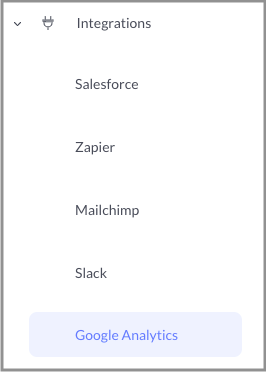 On the Google Analytics page for your organization, if you are subscribed to ColoradoGives.org Advanced, you will see the ability to add your Google Analytics Tracking ID.
We recommend establishing a dedicated Google Analytics account / property for use with this integration. Read more about setting up your account and finding your Tracking ID.

Enter your UA Tracking ID and select Save. Once you have it connected, you will see the following information:
Page views will be triggered for all campaigns and pages belonging to your organization. In addition, we have enabled the following events to allow for tracking conversion rates and other metrics in Google Analytics.
All triggered events will also include the value or donation amount if applicable.
| | | |
| --- | --- | --- |
| Event Category | Event Action | Notes |
| Donation Flow | Add to Cart | Triggered when the user adds any of your campaigns to their checkout cart instead of performing a single donation checkout. |
| Donation Flow | Donation Success | Triggered on successful completion of any single donation to your campaigns. If a user completes a checkout via a donation cart, a Donation Success event will not be triggered. We recommend also referring to the Add to Cart event for this reason. |
If you would like more information on Google Analytics, please check out our blog article Google Analytics for Nonprofits.
Please contact us here if you have any issues connecting with Google Analytics.